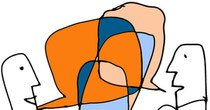 Organizer

Sabine Frauenknecht leads the conversation group. If you have any questions or suggestions you can contact her also via the email address noted at the end of the Programme.
Conversation Group
Our conversation group meets on the second Wednesday of every month at 7 pm in Restaurant Kreuz, Hauptstrasse 49 in Küttigen.
How to get there? In front of Aarau Railway station - at the bus terminal take
bus # 1 in the direction to "Küttingen"
to the busstop "Kreuz" just in front of the Restaurant.
Why not join us and bring an English speaking friend.
Topics 2019         

January 9.              Act of kindness you would like to do

February 13.         Things you are more than grateful for

March 13.               Robots, are they taking over our lives, our jobs?
April 10.                 Star constellations and their influence they

                               have on us
May 8.                   Children
June 12.                Gardening

July                        NO MEETING

August 14.             Dogs and cats

September 11.       Water

October 9.             Which island do you need?

November 13.        How do you react on advertising?

December 11.        Music Places you would like to visit

You are very welcome to join us.
Contact Tel. Number:
Mrs. Vreni Welstead 079 281 71 89

E-mail: ESCAarau@gmx.ch
We meet on Wednesdays in Restaurant
Kreuz, Hauptstrasse 49, in Küttigen