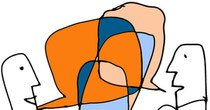 Organizer

Sabine Frauenknecht leads the conversation group. If you have any questions or suggestions you can contact her also via the email address noted at the end of the Programme.
Conversation Group
Our conversation group meets on the second Wednesday of every month at 7 pm in Restaurant Speck, Rathausgasse (first floor) in Aarau.
How to get there? In front of Aarau Railway station - at the bus terminal take
bus # 1 in the direction to "Küttingen", or
bus # 2 in the direction to "Erlinsbach", or
bus # 4 in the direction to "Biberstein".
All buses go to the Bus-Stop "Rathaus". The Restaurant Speck is on the same side of the street, just 20 meters back on the left corner.
Car parking in the parkhouses "Kasino" or "Flösserplatz". Both within walking distance to Restaurant Speck.

Why not join us and bring an English speaking friend.
Topics 2017
January 11.           Pet hate (something that you dislike and is a

   constant annoyance, e.g.like being put on hold
   on the telephone or stand in line.)
February 8.           in Pizzeria Oliv, Kronengasse 8, Aarau

                             (Perfumes)
March 8.                My preferred season
April 12.                 Why and/or how to learn a language / favourite

   language
May 10.                 Book recommendation or a book you would
   never advise to read

June 14.                Special buildings you like or you once lived in
July                        NO MEETING

August 9.              Trees ... can have a history

September 13.       Fashion - now and then

October 11.            Poetry versus prose

November 8.          Ugly or awful places
December 14.        Nostalgia
You are very welcome to join us.
Contact Tel. Number:
Mrs. Vreni Welstead 079 281 71 89

E-mail: ESCAarau@gmx.ch