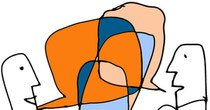 Organizer

Vreni Welstead leads the conversation group. If you have any questions or suggestions you can contact her also via the email address noted at the end of the Programme.
Conversation Group
Our conversation group meets on the second Wednesday of every month at 7 pm in Room Abau Stübli, Rütmattstrasse 2, ground floor in Aarau-Telli.
How to get there? In front of Aarau Railway station - at the bus terminal take
bus # 2 in the direction to "Telli-Rohr"
to the busstop "Telli-Zentrum" just in front of the Shopping Center Telli.
Why not join us and bring an English speaking friend.
Topics 2022         

January 12.           .....

February 9.           .....

March 9.                 .....
April 13.                .....
May 11.                 .....
June 8.                  what is in you handbag/pocket
July                        SUMMER BRAKE

August 10.             Holiday

September 14.       my dreams
October 12.            collection

November 9.           hobby                                       

December 14.        Hair

You are very welcome to join us.
Contact Tel. Number:
Mrs. Vreni Welstead 079 281 71 89

We meet on Wednesdays in Room Abau
Rütmattstrasse 2, in Aarau-Telli