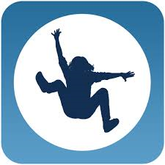 Spontacts! - Internet Community to meet spontaniously
There are many people out there who want to talk English more often, even in Aarau. The Internet has brought us many conventient services, so called "Communities". Facebook is one of these community services you may already be aware of.
Spontacts! is another one we would like to introduce to you.
This service is designed for people who want to do things spontaneously, but together with others, such as goin to a restaurant, or to the gym on Sundays, and even come together and talk English.
Im March, 2013, a small group of people of the age from 20 to 50 came together in Aarau in a very informal way, just for meeting, having dinner, and talking English. No specific theme to talk about, just what comes up, e.g. the last holidays, or what was going on last week at the workplace, or why the old car just has broken yesterday. Just everyday things.  
The group meets once every month, either on Friday or Saturday evening. The place is changing, but always refreshing. 
Imada, a Japanese restaurant got visited in April, http://www.imada.info/.
Scent of Bamoo, a Chinese restarant got visited in mid-may, http://suan-long.ch/scentofbamboo/.
American wild-west ambiance in the restaurant Go West! in the Telli
quarter got chosen end of June, http://www.thommen-gastro.ch/index.cfm?tem=2&spr=2&hpn=1
In July it might be the restaurant Chili-Mex Frohsinn just near the train station WSB, Hintere Bahnhofstrasse.
This is not yet for sure - it may change spontaneously!
But go and visit Spontacts! - either on your internet computer, or on your smart phone. Apply for a registration and look out for spontaneous events, called "English Conversation Afternoon" or, "English Speaking Conversation Evening"