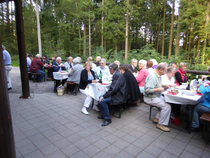 A Picture from the last event 
Summer-Party at Waldhütte Fährich,
Lengnau  24.8.2014

Great event   - 40 members and guests attended  - tasty salads and
unbeatable desserts!   The Baden club seems to have many talented cooks !

 Mike was the expert for grilling of the meat. Super event, it could
have been a little bit warmer!